Cube Fest 2022
August 19 - 21, 2022
Prepare for a sonic adventure that can only be experienced in one place in the entire world: the Cube!

cube-fest-22-program.pdf
PLAYBILL — Cube Fest 2022
Cube Fest 2022 celebrated the latest innovations in immersive sound and musical composition in a place that provides the ultimate sonic experience. The concerts at Cube Fest presented music that moves around, above, and through the listener. Impossible to re-create at home listening on a stereo system or with headphones, these works were created specifically for the Cube's world-leading audio system, complete with over 140 loudspeakers.
The 2022 festival celebrated immersive Afrofuturist music. Afrofuturism is an ideology that examines the past and the future through a Black cultural lens, connecting African diaspora culture with science and technology. At Cube Fest, we featured works by Jupiter Blue, King Britt, Yvette Janine Jackson, and Sea Novaa, including an evening-long concert, The Other Wakanda, presented by Stephen James Taylor.
A special Cube event put the spotlight on Virginia Tech student musicians, showcasing new spatial hip-hop music created by members of Virginia Tech Digging in the Crates (#VTDITC), the university's student-led hip-hop studies program.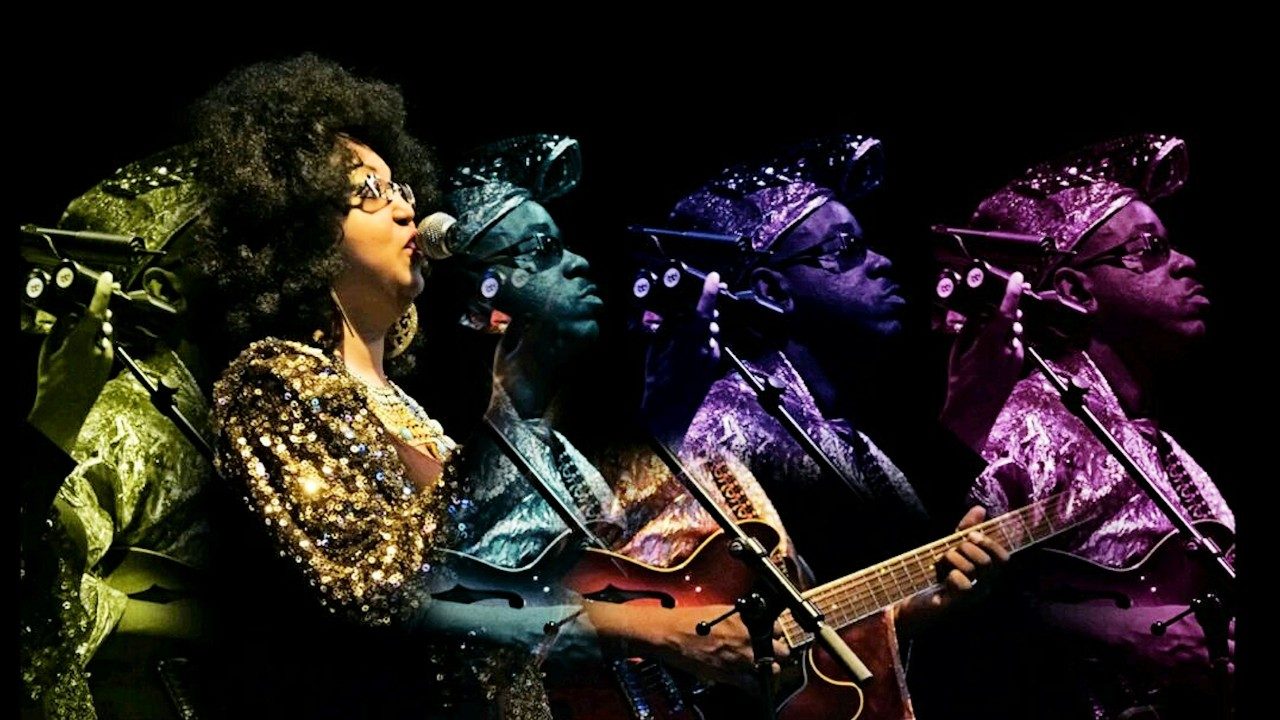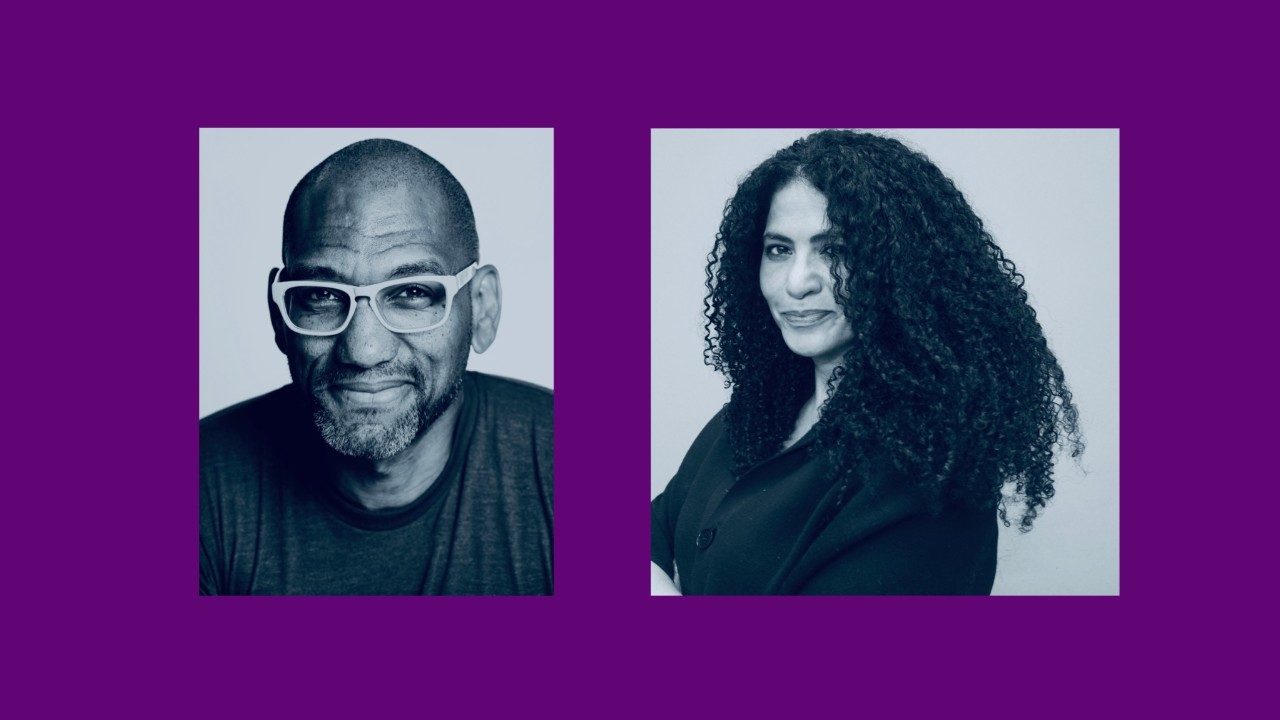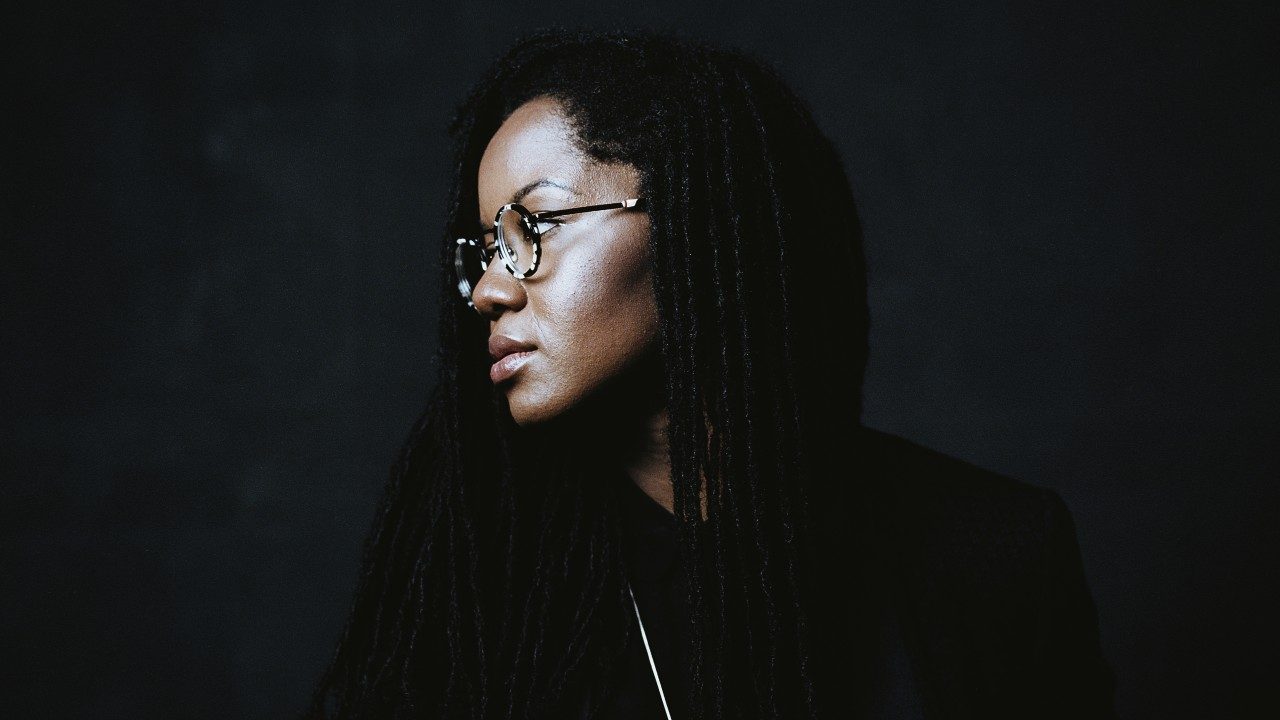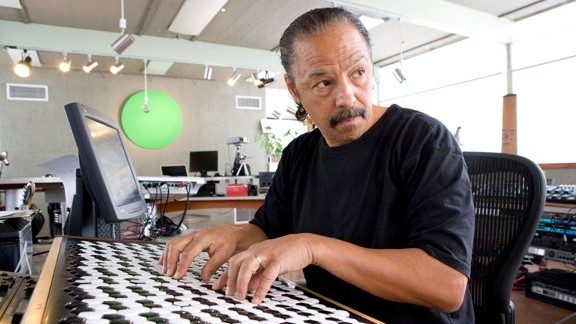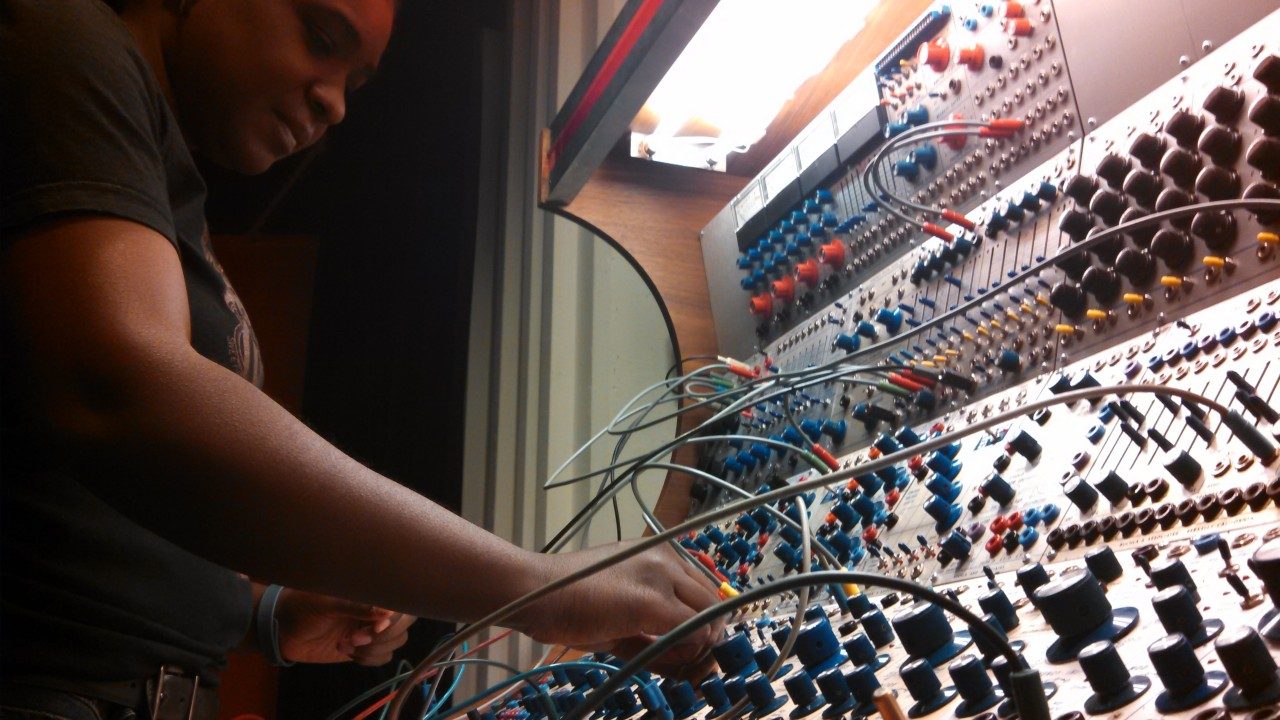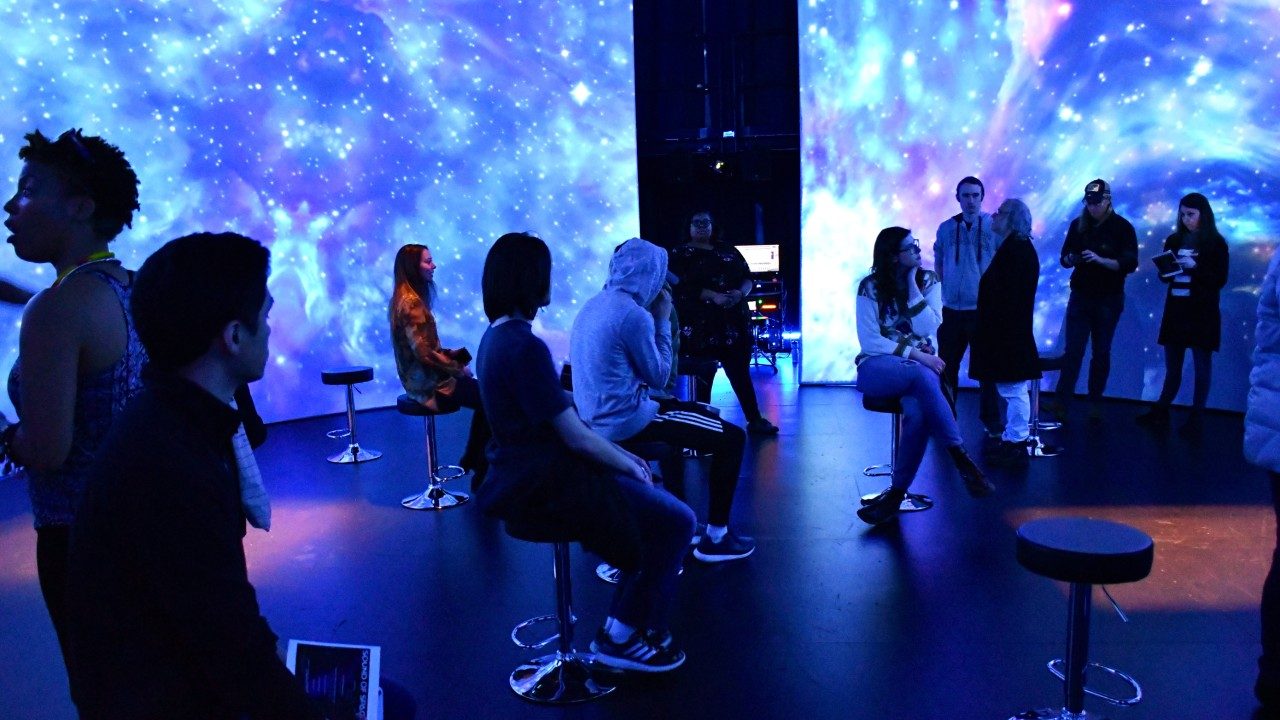 The keynote talk, You Haven't Met the Captain of the Spaceship...Yet, delivered by Thomas Stanley of George Mason University, preceded a spatialized experience of the influential Afrofuturist album Space Is the Place by visionary composer Sun Ra.
Recent immersive music from around the world was presented, including the works of James Bagshaw, Chris Coleman, Philippe-Aubert Gauthier, Orestis Karamanlis, Christophe Lengelé, and Nikos Stavropoulis.
The pieces programmed for the Sounds in Focus and Sounds Cubed concerts were selected by a multidisciplinary jury at Virginia Tech from an international pool of music submitted for Cube Fest. All submitted pieces were designed for an immersive listening experience. Sounds Cubed concerts are created to be experienced in the vast sonic environment of the Cube, while the Sounds in Focus concerts benefit from a more intimate and concentrated immersive sound setting.
Cube Fest 2022 was sponsored by the Moss Arts Center; the Institute for Creativity, Arts, and Technology; the Center for Humanities; and Cycling '74.
Digging in the Crates: The Sankofa Tape (live/fixed)
Cube • 5 PM
$10; free for current Virginia Tech students
> TICKETS
Experience an unforgettable spatialized hip-hop music event created by Virginia Tech students, faculty, and community members. VTDITC: Hip-Hop Studies at Virginia Tech (#VTDITC), the university's student-driven hip-hop arts community of practice, created The Sankofa Tape to represent generations of Black experiences of Virginia Tech community members—past, present, and future. Stories, soon-to-be folktales, are shared through recordings crafted specifically to be spatialized in the Cube. This sensational experience includes a spectrum of frequencies and movements, which engage with boom bap beats stored on hard drives and computer-programmed spatial orchestration. Rich with Afrofuturism themes and Black history testimonies, The Sankofa Tape provides a one-of-a-kind multi-dimensional representation of Black experiences as well as a blueprint for future realities.
Founded in 2016, VTDITC: Hip-Hop Studies at Virginia Tech or Virginia Tech Digging in the Crates exists to foster a sense of Ujima (community) among hip-hop artists, fans, and scholars. Through hip-hop culture, we equitably create engaged scholarship alongside numerous communities. We hope to model that students' and community members' interests are worthy of academic study and to further strengthen hip-hop studies' presence at Virginia Tech. We celebrate creative, critical scholarship through Umoja (unity) and community-based experiential learning.
Please note, this performance contains adult language.
The Other Wakanda (fixed)
Stephen James Taylor
Cube • 7 PM
$10; free for current Virginia Tech students
> TICKETS
In the Marvel universe, the fictional African country of Wakanda evolved into a high-tech nation all on its own…free from outside European or Arabic influences. While working on The Black Panther animated series in 2009, composer Stephen James Taylor wondered what Indigenous classical music in Wakanda would sound like. Would it involve complex harmony and melody like European music, or would it be built around the intricate drumming rhythms like those heard in its neighboring countries? Or both? Regardless, it would definitely have developed its own tuning systems and unique frequency relationships. In Music from the Other Wakanda the composer explores possible answers to these questions in a spellbinding surround sound evening of transcendent tonality from a parallel dimension. 
Taylor has a unique musical identity. His Afrofuturist style represents a blend of classical, rock, blues, gospel, world music, homemade instruments, and avant-garde. Music From the Other Wakanda premiered in 2019 at the Glendale College Planetarium. His past projects include providing music for Richard Tanne's 2020 Amazon film, Chemical Hearts, and the Star Wars Cantina at Disneyland's Galaxy's Edge (2019), the first microtonal music ever in rotation at Disneyland). He has composed scores for many of Robert Townsend's films, such as The Making of the Five Heartbeats (2017), Of Boys and Men (2008), and Holiday Heart (2000). Taylor's various chamber works have been performed throughout the country and he has  composed in surround sound.
Sounds in Focus I
Fixed works by Dexter van der Schyff, Roxanne Turcotte, Ryne Siesky, João Pedro Oliveira, and Simon Le Boggit
Perform Studio • 3 PM
Free
The music in Sounds in Focus I addresses the environment, the divine, and pure abstraction. Dexter van der Schyff's Waterfall is built from hydrophonic recordings taken from bodies of water on Mount Royal, Montreal. Roxanne Turcotte's Bestiaire is a tribute to living beings, working with the sounds of animals, transported to a sonic world of the imagination. Ryne Siesky's …grind… focuses on a threat to environmental sustainability: the plastic cup. The work is created entirely from a one-second recording of a plastic coffee pod hitting the floor. João Pedro Oliveira's N'vi'ah explores the divine and prophetic. N'vi'ah is an Old Testament word meaning "prophetess." The concert concludes with Simon Le Boggit's 48 Steps, an abstract work generated from chaos, repetition, and mutation.
Sounds Cubed I
Jupiter Blue and Sea Novaa (fixed media) and fixed works by Yvette Janine Jackson and King Britt
Cube • 7 PM
$10; free for current Virginia Tech students
> TICKETS
An evening of Afrofuturist music with a focus on live performance and the human voice, this concert features inspiring live performances by Jupiter Blue (David and Tara Middleton, who are also long-time members of the Sun Ra Arkestra) and Sea Novaa. Also included is Yvette Janine Jackson's Aboard the Alliance, a fixed media work inspired by Samuel R. Delany's science fiction novel, Babel-17, which explores the relationship between language, cognitive behavior, and agency over one's own body, and As It Should Be, created by Moksha Black (a King Britt project featuring Roba El-Essawy). In El-Essawy's words, "The song was written the moment I heard it. It felt like rays of light, streaming beams; wanting to bathe and bask in it. Moksha Black is transformative."
Keynote: You Haven't Met the Captain of the Spaceship...Yet
Thomas Stanley
Perform Studio • 1 PM
Free
Sun Ra was a wildly inventive jazz composer, foundational figure of Afrofuturism, electronic music experimenter, keyboardist, bandleader, founder of the Sun Ra Arkestra, orator, philosopher, mystic, gnostic, poet, prankster, and so much more. Sun Ra continues to provide inspiration to countless modern musicians and remains a culturally relevant figure who in recent years has been cited on Lovecraft Country, along with countless books and articles in popular and academic press.
Despite his large cultural presence, Sun Ra, the person, is not well known or understood. As Sun Ra once said, "History is 'his' story. My story is mystery." In this Cube Fest 2022 keynote lecture, Thomas Stanley (writer, audio activist, professor at the George Mason School of Art, and Sun Ra scholar) leads us deep into the thought processes of Sun Ra in preparation for the Cube Fest immersive experience of Sun Ra's album, Space Is the Place. Stanley is the author of the book The Execution of Sun Ra: The Mysterious Tale of a Dark Body Sent to Earth to Usher in an Unprecedented Era of Cosmic Regeneration and Happiness (Volume II).
Sounds in Focus II
Fixed works by Barry Truax, John Young, and Lidia Zielinska
Perform Studio • 3 PM
Free
This concert of international immersive music leads with computer music pioneer Barry Truax's The Shaman Ascending, which, according to the composer, "evokes the imagery of a traditional shaman figure chanting in the quest for spiritual ecstasy. However, in this case, the listener is placed inside of a circle of loudspeakers with the vocal utterances swirling around at high rates of speed and timbral development. The work proceeds in increasing stages of complexity as the shaman ascends towards a higher spiritual state."
The remaining two works, Abwesenheit by John Young and Backstage Pass by Lidia Zielinska, engage with the music of the past. In Abwesenheit, Young works with audio material recorded in the garden of the Beethoven Wohnung Heiligenstadt where, in 1802, Beethoven spent the latter half of the year seeking respite for his failing hearing. The composer states, "the historical resonance of the Beethoven Wohnung with its sounds and artefacts — distant chimes, a death mask, creaky floors, the resonance around hushed conversation — imparts a profound sense of absence." Zielinska engages with the piano as a historical object. The composer states, "In the piece, piano keyboard becomes the interface between the inside of the instrument and accumulated experience of the listener's life."
Sounds Cubed II
Fixed works by James Bagshaw, Christophe Lengelé, Nikos Stavropoulos, Orestis Karamanlis, Chris Coleman, and Philippe-Aubert Gauthier
Cube • 7 PM
$10; free for current Virginia Tech students
> TICKETS
Long-time Cube Fest contributor Chris Coleman returns with śūnyatā, scored for a mixture of Chinese and Western instruments. śūnyatā is the concept of "not self," of awareness in which perception and feeling cease, of meditating to the loss of self-awareness. James Bagshaw's Helicopter Synths explores the sensation of overhead flight, making good use of the 20 ceiling-mounted loudspeakers in the Cube, while Christophe Lengelé's Parmegiani meets SuperCollider 1 transports biological life processes to music with a focus on the effects of a multi-channel audio environment. Nikos Stavropoulos's Karst Grotto explores analogies between geological spatial structures (karst is a particular topography created by the dissolution of soluble rock types) and processes and spatial audio experiences. In Orestis Karamanlis's playful Toys, most of the sounds originate from recordings of toys, organized into spatial/rhythmic configurations. Recorded for specifically this Cube performance, Philippe-Aubert Gauthier's Exploded views: sound machines, a cubic perspective features 134 recordings from a modular synthesizer. Gauthier asked the question, "If we still often rely on mixing and signal processing for sound space composition, why not explore the spatial inner architecture of modular synthesis, which offers a plethora of signal variations?"
Listening Lounge
Spatialization of Sun Ra's Space Is the Place
Cube • 9 PM
$10; free for current Virginia Tech students
> TICKETS
The album Space Is the Place holds a central position in Sun Ra's vast body of work, aligning with Sun Ra's personal mythology as a visitor from Saturn and with the central role of outer space in Afrofuturistic thinking. The 21-minute-long title track Space Is the Place is anthemic, celebratory, and absolutely demands more than the two loudspeakers of a stereo system. At Cube Fest 2022, Space Is the Place will be experienced in a newly created spatial interpretation that makes full use of the 140 loudspeakers of the Cube.
Learn more about the Cube:
General Item

The Cube

The Cube is a highly adaptable space for research and experimentation in big data exploration, immersive environments, intimate performances, audio and visual installations, and experiential investigations of all types.