Sea Ice Saga
In summer of 2017, through the generous support of an ICAT Mini-SEAD Grant for Húnaflói, we Sea Ice Saga(Les Duffield and Rachel Lin Weaver) worked in Iceland on a project set at the intersection of cultural memory, marine ecology, animal industries, and Nordic craft traditions. From a small coastal village, we partnered with master textiles artists, fishermen, sheep farmers, and marine bio-scientists. Our collaborations with community members hybridized time-based media (video, sound), textiles (wool), sculpture (fish skin, ready-made materials), and performance art, and we learned new craft techniques and created works in response to community memory and the complicated ecological challenges of life in the Arctic Atlantic region. While there, we stumbled unexpectedly onto Þórsstofa, the Sea Ice Archive located in Blönduós, Iceland, as part of the Icelandic Textiles Center.
The Sea Ice Saga project will be a hybrid textile, video, sound, writing, and performance installation work that looks to the unutilized Sea Ice Archive collection of materials as a touchstone for the small villages of Norðurlandvestra in the midst of drastic environmental and cultural change. Working with community leaders in textiles, fishing, marine bioscience, climate science, and sheep farming, we will activate and creatively respond to the Sea Ice Archive's data, and each contribute intuitive artistic responses to the ebb and flow of Icelandic sea ice over the last 1,000 years in the Northwest region.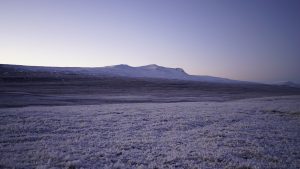 Community collaborators will participate in this project as performers, makers, witnesses, guides, and craftspeople. We have been invited to participate in regional marine biomass and sea ice surveys, which we will document and creatively incorporate as audiovisual material gathered aboard research vessels. Local scientists studying marine bioscience and climate will fold in related impactful perspectives and data. Sheep farmers, craftspeople, and net makers are collaborating in incorporation of installation material components spanning wool, fish leather, and net materials which will be sculpted and layered. Co-created written content will be developed as prose, poetry, and lyrics, and worked into spoken and/or performed narration or song for the installation's sonic Saga components. The resulting multifaceted work will emerge as a harmonizing chorus of disparate perspectives and community voices, each in response to the shared fight for ecological and cultural resilience in a new era for the Arctic. As a hybrid, transdisciplinary document, the final work will exist as a large-scale immersive video projection Sea Ice Sagawith multi-channel sound, and sculpture/installation components. Sea Ice Saga will convey narratives of community members within imperiled Northwest Iceland coastal villages, and relay the fading memory of sea ice in the Greenland Sea as climate change continues to drastically alter the region. The vast span of time negotiated through the Sea Ice Archive's materials, as well as incorporation of spoken and sung text in the installation, will adapt the powerful Icelandic Saga literary tradition into a new artistic, genre-defying context.
As a part of our project, we will conduct a number of field-based collaboration, production, and VT-based remote collaboration and post-production activities. In Iceland, we will undertake the following fieldwork over the span of at least two (possibly three) visits: video and audio recordings of interviews, documentation of activities on Icelandic fishing boats and research vessel biomass and sea ice survey data, video at coastal village centers, at the Sea Ice Archive, at farms, at fish processing facilities with fishermen, in fishing net-making and net-repair shops, and in textiles studios. We will scan and composite Sea Ice Archive content. We will undertake creative collaborations with scientists, fishermen, sheep farmers, and community leaders in response to the Sea Ice Archive data and their lived experiences on the Greenland Sea coast. We will work with master textiles artists in craft learning and production, primarily centering our activities on felting and weaving Icelandic wool as material for sculpture. We are excited to start to build woven structures and textured projection surfaces from this material. We will develop written content with Icelandic writers and community leaders and will record audio and song-based versions of this written content in Icelandic and English. We will also document all collaborative processes so that we have a thorough record of project development and process.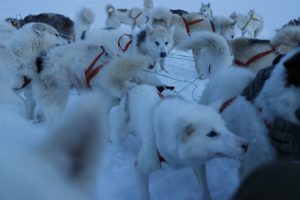 We will use our time in Blacksburg between visits to do the majority of our creative collaging, larger scale material sculpting, amalgamating, and synthesis of media content. We will continue to gather digital contributions from collaborators back in Iceland,Sea Ice Saga and will take raw material contributions and individual pieces of data and find new ways to explore, connect, and hybridize these many parts in installation and media art form. We will engage in remote sharing of work in progress and conversations with collaborators back in Iceland via Skype and phone, and will set to work editing and compositing our large collection of gathered video and audio materials.
We will finalize our installation work by late spring of 2019 with the goal to exhibit versions of the finished installation work simultaneously in Iceland and Blacksburg, followed by a series of additional exhibitions and public displays of this community-driven collaborative project.
The primary goal of this project is to center the very complicated ecological and cultural narratives of a fishing and sheep-farming region Northwest Iceland that is undergoing radical transformation due to climate change—the vanishing sea ice as a key indicator of this. We will explore the collision of ecological forces and intangible cultural memory as artists, through intuitive craft and creative exposition of regional materials and ideas, and through community-driven artistic collaboration across disciplines that interprets and responds to pieces of Þórsstofa, the Sea Ice Archive, building a kind of new transdisciplinary scientific and artistic community Saga yet to be shared.
The most significant project output will be a large-scale cumulative, multifaceted media art installation incorporating video, audio, textiles / wool material, and projection, that responds to Sea Ice Archive data, and is the result of collaboration between artists Les Duffield and Rachel Lin Weaver, and Northwest Iceland community leaders across science, the arts, craft, writing,farming, and fishing. This work will be exhibited at Virginia Tech, at various venues in the US,in Iceland, and in other global exhibition contexts.
Additional outputs will exist in the following forms: educational activities, e.g., workshops and presentations alongside exhibition of the work in Iceland and elsewhere, including galleries, conferences, festivals, and more; written documentation and journaling of creative and collaborative process (this could become a book or catalog publication); a written parafictional essay on memory, community, and sea ice pushed to publication outlets; a series of media documents that showcase collaboration and field work approaches; a single synopsis which be developed as a "making-of" style video; long-term partnership between the artists, ICAT, and the University of Iceland research facilities and Northwest Iceland institutions with whom we are partnering; additional grant funding that we are pursuing, leading to (hopefully) additional facets and community-driven collaborations at the intersections of art, cultural memory, animal industries and traditions in Iceland, and ecology; and an open workshop or workshop series that we first lead in Blacksburg (and then potentially lead elsewhere) centering on community-driven collaboration in media arts practices, and the challenges and benefits of these processes.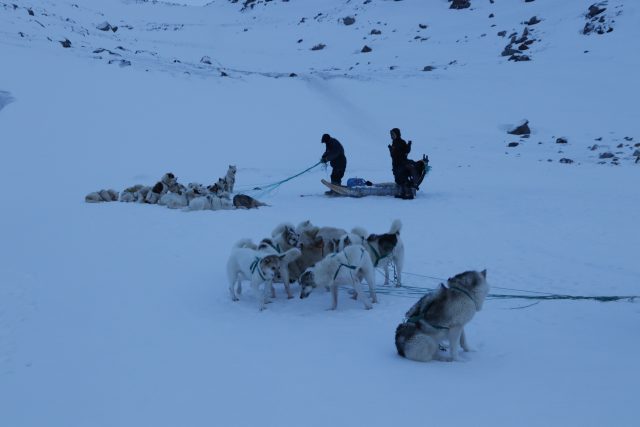 We will know if our project has been successful if we are able to successfully complete and exhibit the finished work with the approval of our partnering community members, and if the work gains traction and international exhibition notoriety. We are confident this can occur due to the quality of exhibition already in place for us at internationally significant venues in Iceland and abroad. Success will also be judged on the project leading to other creative research trajectories. We want this work to be an opening, leading to discoveries and projects. Anticipated outcomes and deliverables will come in the form of the above-mentioned exhibitions, grant applications and (hopefully) grant awards, and resulting future collaborations between ourselves and the respective community leaders, scientists, artists, farmers, and culture stakeholders in Iceland with whom we are partnering.
ICAT 2018-2019 Major Sead Grant
---